Dé (7-daagse) opleiding voor paardenmensen! Maak van je passie je bijberoep of leer gewoon meer over het lichaam en de kwalen van je eigen paard!
Op zoek naar een opleiding met paarden? Wil jij je paard op de best mogelijke manier ondersteunen en snel kunnen ingrijpen wanneer de gezondheid van je paard niet optimaal is? Woon je een beetje te ver van onze leslocaties om op regelmatige tijdstippen een weekend les te volgen maar wil je je echt wel verdiepen in de boeiende materie die Equina je biedt? Of wil je je al voorbereiden op de Holistisch Paardentherapeut opleiding om later van je passie je beroep te kunnen maken?
Dan is deze cursus met paarden iets voor jou! Lees snel verder om te ontdekken welke modules aan bod zullen komen.
Schrijf je nu in
Verzeker meteen je plaats en schrijf online in voor deze opleiding.
Cranio & structurele behandeling
Bewegingsleer & spieropbouw
Om jullie al meteen goed aan de slag te laten gaan hebben we gekozen voor de meest praktijkgerichte onderwerpen. Na deze modules kan je al perfect aan de slag met het geven van behandelingen tegen betaling.
OPGELET! Dit is een intensieve cursus, dus hou er zeker rekening mee dat we van onze deelnemers dan ook een stevige motivatie verwachten!
Lesgever voor
Horse Health Specialist, Equina PRO paarden en honden, Kennismakingstraining, Basics paarden, Workshops, Praktijkdagen en bijscholingen
Locatie
Bevel
Wat zeggen onze ex-studenten?
Mijn hondje was bijna opgegeven door de dierenarts.
Een topteam als je het mij vraagt… Mijn kleine lieverd was zo ziek, bijna opgegeven door de dierenarts.Na 2 behandelingen door Evy was mijn kleine lieverd springlevend! Ik volgde ook een workshop en pas het nog elke dag toe!
Nancy Lamont
Oprichtster Provita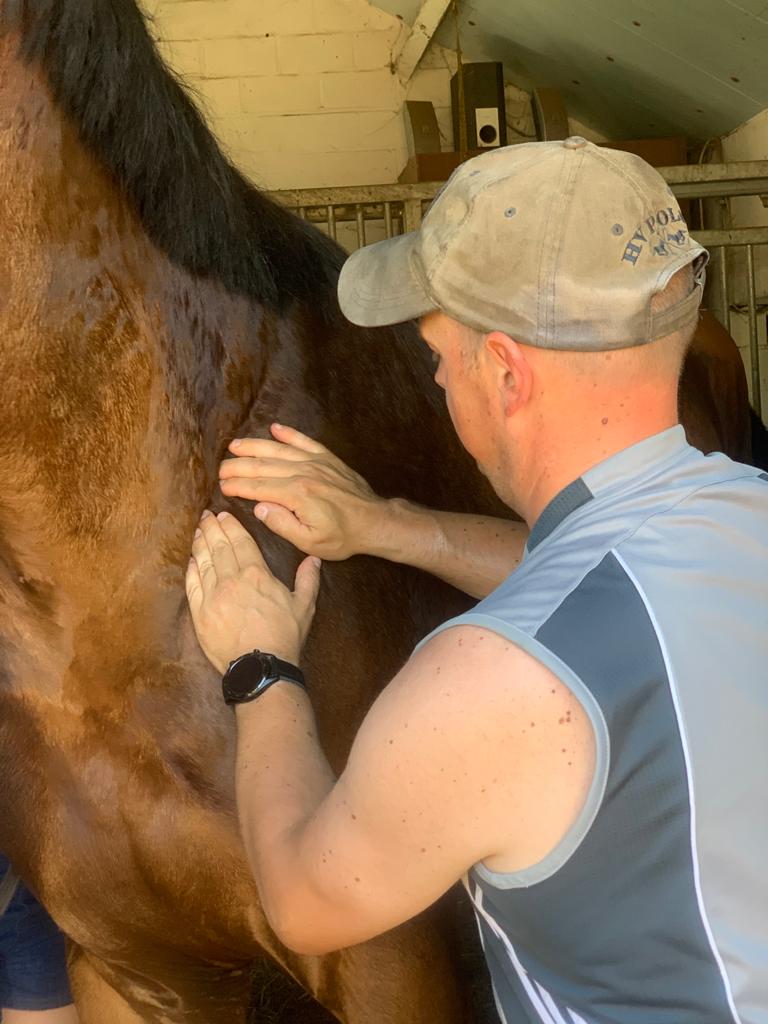 Ik heb gezien dat shiatsu de paarden écht kan helpen. Dat de behandelingen (bv. cranio) ongelooflijk deugd doen bij paarden. Ik ben al gestart in bijberoep en hopelijk binnenkort in hoofdberoep!
Tom A.
Student PRO opleiding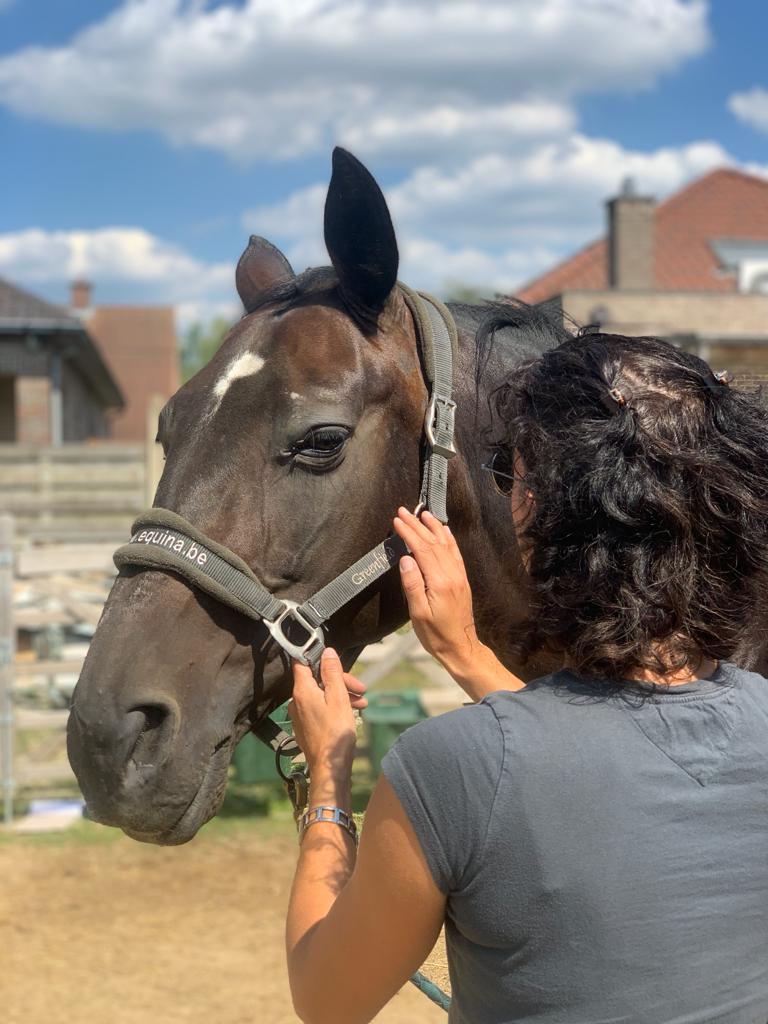 Een intensieve week, waar verschillende behandeltechnieken worden bekeken die je nadien al op je eigen paarden kan toepassen, mét resultaat!
Anka D.R.
Student intensieve zomercursus + PRO opleiding
Een stapje dichter naar mijn toekomst!
Axelle D.G.
Student intensieve zomercursus
De intensieve cursus was een super ervaring? Je wordt een hele week ondergedompeld in de sfeer en kennis van shiatsu. Met diverse tips en tricks kan je meteen aan de slag met je eigen paard (en jezelf). Alles wordt zeer goed uitgelegd met bijhorend beeldmateriaal zodat je ook na deze week veel kan oefenen!
Inneke H.
Student intensieve zomercursus + PRO opleiding.
Ben naar de workshop Moody Mares geweest. Was alweer héél interessant. Véél info en tools meegekregen! De ervaring en kennis van Evy is super uitgebreid en waardevol. Geeft alweer een boost om paardjes te mogen gaan helpen...
Hilde D.
Afgestudeerd PRO opleiding
Astmatisch paard na inentingen gekregen te hebben tegen rhino en griep en tetanus... half uurtje bij Evy en paardje terug volledig rustig en ontspannen...
volgens dierenarts zou het langzaam elke dag klein beetje beter worden en was het stofallergie.
Ja stallen zijn nu volledig terug spik en span na grote kuis, maar toch blij dat paardje nu al terug Oke is...
Dank je Evy voor alle inzichten
Els D.P.
Passion for well-being of dogs, horses, and humans shines through every interaction.
I want to know more! What a great introduction to Shiatsu. And the dogs LOVED the lessons too (sooo relaxed, every one of them)
Greet G.
Student Basics
Heeft mijn merrie fantastisch geholpen die na pleeg moederschap jaar melk bleef geven, waar door het eindelijk is opgelost
eeuwig dankbaar

Inge K.
Elke cursus, workshop en opleiding superboeiend en supertof gegeven
!! Veel nieuwe info, tips & tricks!
thx!

Lana D.G.
Afgestudeerd PRO opleiding
Altijd interessant een hele leuke aanvulling voor de cursus shiatsu pro. De cursus in algemeen is zeer goed ! Nog steeds tevreden dat ik de kans gegrepen heb om ze te volgen.

Charlien V.
Afgestudeerd PRO opleiding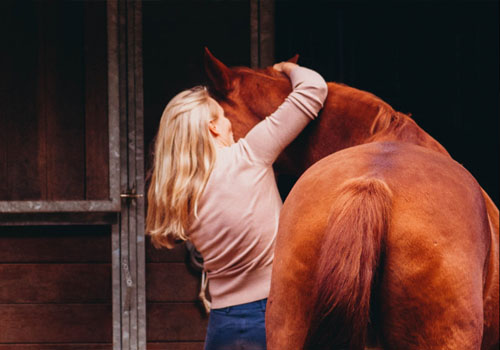 De studenten van Equina zijn onlangs onze paarden komen behandelen met shiatsu massages.
Heerlijk vonden ze het, en mooie resultaten behaald. Zeker voor herhaling...
Ik raad iedereen aan zijn paard een shiatsu massage te laten geven door Equina.
Ann M.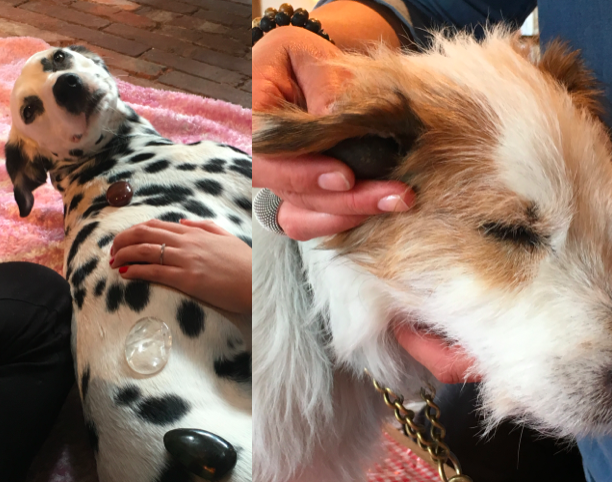 Vorige week ben ik de cursus Moorstempel en hotstone massage voor honden gaan volgen bij Equina. Het was een leuke avond met weer een heleboel extra info waar ik mee naar huis ging! Een originele en interessante toevoeging op mijn professionele opleiding Shiatsu voor honden. En als surplus, kregen we van Evy ook een boel businesstips, afgestemd op onze eigen onderneming.
Ben heel blij dat ik me ingeschreven heb, het was echt meer dan de moeite!
Nathalie D.R.
Afgestudeerd PRO opleiding honden
Mijn Chihuahua Bambam (3,5 jaar) was nooit ziek, tot haar 1 jaar. Daarna begon ze ineens ademhalingsproblemen, slijmen en energiegebrek te krijgen. Na de dierenarts (bloed trekken, radiografie, met camera in de luchtwegen enz) werden we doorverwezen naar Merelbeke. Ook daar konden de professoren ons niet verder helpen.
Na doorverwijzing door vriendin kwam ik bij Evy terecht. Het bleek simpelweg aan haar voeding te liggen. Na 3 behandelingen zijn de skijmen zo goed als weg, heb ik terug een speels en energiek hondje! Ik ben zo dankbaar dat ik Evy heb leren kennen, en dat ze mijn BamBam terug gezond heeft gemaakt.
Sabine C.
Heel fijne manier van lesgeven, goede combi theorie & praktijk. Docent speelt enorm in op de vragen en noden van de personen én honden in de groep. Heel leuke en goede lesgeefster, echt een aanrader!
Karen V.
Leuke opleiding waardoor ik een extra aanbod kan aanbieden. Ook een leuk moment met mijn eigen hond!
An L.
Vlotte, interactieve opleiding. Veel uitleg die je dan meteen kan uitproberen op je hond: ideale combinatie.
Docente spreekt met kennis van zaken, die ze met plezier/enthousiasme deelt.
Anja C.
Heb je vragen voor Equina of wil je graag een opleiding volgen?
Laat het ons weten en we nemen snel contact met je op.